Caspar Weinberger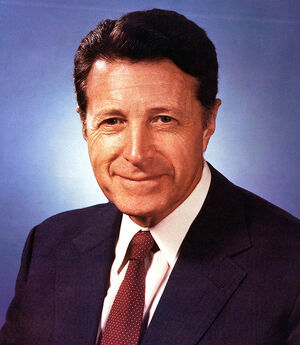 United States Secretary of Defense
In office
January 21, 1981 – November 23, 1987
Caspar Weinberger (August 18, 1917 - March 28, 2006) was the U.S. Secretary of Defense who served in Ronald Reagan's administration.
In the show, Philip in disguise as "Scott Birkeland" enlists a KGB agent named Annelise to take photographs of his study and he and Elizabeth discover that a bug can be planted in a clock in the study.
They discover that a meeting is to take place between Weinberger, British Prime Minister Margaret Thatcher and her defense secretary John Nott to discuss the Americans' proposed Strategic Defense Initiative. Weinberger and Nott are later heard discussing plans to build a missile shield.
In the show, his wife is Mrs. Weinberger.