Konstantin Ustinovich Chernenko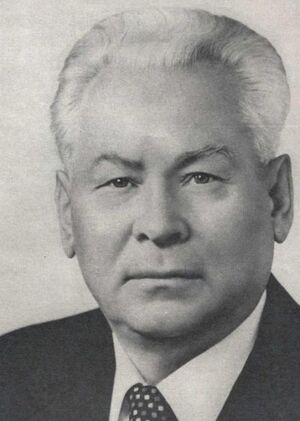 General Secretary of the Communist Party of the Soviet Union
In office
9 February 1984 – 10 March 1985
Konstantin Ustinovich Chernenko (Russian: Константин Установил Черненко; 24 September 1911 - 10 March 1985) was a Soviet politician who led the Soviet Union from 13 February 1984 until his death thirteen months later.
When Yuri Andropov died after just 15 months in office, Chernenko was elected to replace him, despite concerns over his own ailing health. At Andropov's funeral, he could barely read the eulogy; he spoke rapidly, swallowed his words, kept coughing and stopped repeatedly to wipe his lips and forehead.
Despite calls for renewed détente, Chernenko did little to prevent the escalation of the Cold War with the United States. Under Chernenko's leadership, the USSR boycotted the 1984 summer Olympics, which was widely seen as revenge for the U.S. boycott of the Moscow Games.
By the end of 1984, Chernenko could hardly leave the Central Clinical Hospital, and the Politburo was affixing a facsimile of his signature to all letters. His emphysema and associated lung and heart damage worsened significantly in February 1985. On 10 March, Chernenko fell into a coma and died later that evening.
Chernenko became the third Soviet leader to die in less than three years. Upon being informed in the middle of the night of his death, U.S. President Ronald Reagan is reported to have remarked "How am I supposed to get any place with the Russians if they keep dying on me?" The impact of Chernenko - or the lack thereof - was evident in how his death was reported in the Soviet press. Soviet newspapers carried stories about Chernenko's death and Gorbachev's selection on the same day.