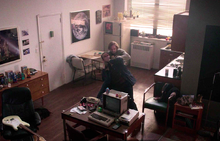 Eugene H. Craft was a computer specialist working in the FBI's Counter Intelligence Division. He was born in 1950, and lives alone in an apartment decorated with childhood figurines. He often supplies Stan with bootleg copies of movies that Stan then passes along to Henry.
The use of the Mail Robot was Gene's idea. He later says he enjoyed his three-hour questioning by Walter Taffet, because he was the first person Gene had talked to at work who understood computers, and information.
In order to divert attention from Martha, Gene is murdered in his apartment by a disguised Philip, who plants evidence indicating Gene was responsible for bugging Gaad's pen. In addition to causing a rift between Martha and Philip, Gene's death weighs heavily on Philip. He is shown visiting the grave, after Martha is exfiltrated.
Gallery
[
]