Jurassic World: Dominion Dominates Fandom Wikis - The Loop
Play Sound
Vladimir Ilyich Ulyanov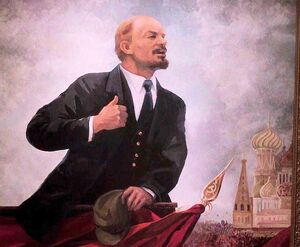 Chairman of the Council of People's Commissars of the Soviet Union
In office
30 December 1922 – 21 January 1924
Chairman of the Council of People's Commissars of the Russian SFSR
In office
8 November 1917 – 21 January 1924

Vladimir Ilyich Ulyanov, better known by his alias Lenin, (22 April 1870 - 21 January 1924) was a Russian communist revolutionary, politician and political theorist. He served as the head of the government of Soviet Russia from 1917 to 1924 and of the Soviet Union from 1922 to 1924. Under his administration, Russia (and later the wider Soviet Union) became a one-party communist state. Ideologically a Marxist, he developed the political theories known as Leninism.
Widely considered one of the most significant, influential figures of the 20th century, Lenin was the posthumous subject of a pervasive personality cult in the Soviet Union. A controversial and highly divisive individual, Lenin is viewed by supporters as a champion of socialism and the working class, while critics emphasize his role as founder and leader of an authoritarian regime responsible for political repression and mass killings.
Lenin was seriously ill by the latter half of 1921. In 1922, he suffered two strokes. Despite this, he remained interested in political developments. He recommended Stalin be removed as General Secretary, deeming him ill-suited: "Stalin is too crude, and this defect which is entirely acceptable in our milieu and in relationships among us as communists, becomes unacceptable in the position of General Secretary." However, in Lenin's prolonged absence, Stalin consolidated his power. In March 1923, Lenin suffered a third stroke and lost his ability to speak. On 21 January 1924, Lenin fell into a coma and died later that day.